Captain Hammer T-Shirt Charcoal Grey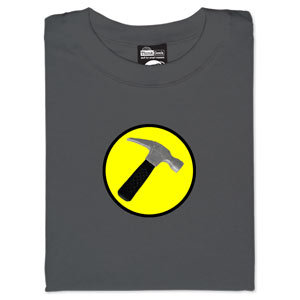 Details

Price:

$9.99

Available In:

Men's

Ages:

Adult

Merchant:

Think Geek - thinkgeek.com

Description

You don't go to the gym; you're just naturally like this.He's everyone's favorite narcissist: the dashingly handsome Captain Hammer, who craves adoration and is always ready to fight for what's right - as long as it doesn't muss up his hair. He's a multitasking super hero, battling Dr. Horrible, flirting with the ladies and showing his well-toned body to best advantage.* Lucky for Hammer, he has us to keep him flexing in style, with the Captain Hammer T-Shirt. Quantum Mechanix worked with Dr. Horrible costume designer Shawna Trpcic to exactly replicate the shirt worn by Nathan Fillion in Dr. Horrible's Sing-Along Blog. We're not only using a shirt that's an exact match for the screen-used costume piece, the Captain Hammer logo is printed using the exact same graphic file Ms. Trpcic used created for the original shirt. Captain Hammer logo on a dark grey 100% cotton t-shirt. * Just give him a sec to strike a pose.